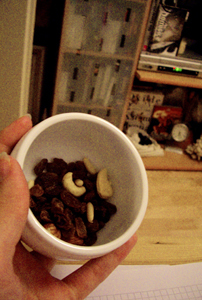 Also, zurzeit ernähr ich mich ja fast nur von Studentenfutter.. xD'
Schlimm sowas.. Aber! Das soll ja beim Denken helfen und das muss ich grad uuuunbedingt! Endlich nimmt dieser wahnsinnige Schulstress wieder ab und somit kann ich mich wieder anderen Dingen widmen - Dinge, die mir doch ziemlich wichtig sind und durch diesen Dauerstress auf der Strecke bleiben mussten. Die letzten zwei oder zwei ein halb Monate waren wirklich streng.. x_x und das in verschiedenen Hinsichten. Ich muss ja fast gestehen, dass ich in diesem Schulstress beinahe untergegangen wäre, denn leicht war das Ganze überhaupt nicht. Man arbeitet den ganzen Tag und wenn man zu Hause ist, darf man noch alle Zeit hinter Bücher und Scripte sitzen.. Da kamen meine Zeichnungen einfach absolut zu kurz. Hoffen wir mal, dass es nun besser wird! .. und dass mich eine fette, kreative Phase überrollt...! xD Drückt mir doch 'n Däumchen ;3
.. ich muss die ganze Zeit an das tolle Lied von Leona Lewis denken T_T okay, zwei tolle Lieder xD sowohl "
Happy
" wie auch "
Footprints In The Sand
".
so what if it hurts me?
so what if i break down?
so what if this world just throws me off the egde
my feets run out of ground?
i'm just trying to be happy..
i promise yhu.. i'm always there.
when yhur heart is filled with sorrow an dispair..
i'll carry yhu, when yhu need a friend.
yhu'll find my footprints in the sand..
.. und? auch schon angesteckt? xD