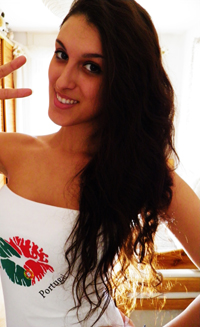 btw.. Mein EM-Outfit! xD
Ich fieber natürich mit und drück der
portugiesischen
Mannschaft die Daumen!
Was mich allerdings immer wieder stört, ist einfach dieses ständige Rumgehacke auf
Cristiano Ronaldo
. Jaa, ich finds auch krass, dass er immer, oder einfach oft, so ein Pech hat
(meiner Meinung nach kann das ja nur noch Pech sein..)
und daneben kickt - bzw. an den Pfosten. Aber das ist so mies, wie alle dann rummaulen und bla, wie unfähig er ist, dass er bei Real immer alles gibt und bla und hier nicht mal dieses Tor trifft.. Leute, ich glaube, es gibt nix, was er mehr will, als den Ball da reinzukriegen, wenn er schiesst... -.- Das kann jedem passieren. Auch 'nem Messi. Oder 'nem Gomez. 'Nem Torres oder wem auch immer. Aber ist es ein Ronaldo, dann "booooah, der grösste Versager ever".. Das ist doch lol -.- Ohne doof, das geht mir echt auf'n Keks xD
Ausserdem finde ich es schade, dass ihn so viele für arrogant halten.. o__o Danke an die Medien hierfür. Man kann 'nen Menschen auch noch mehr verzerren.. Aber naja, jetzt wird er ja wieder bejubelt für den Sieg letzten Donnerstag. Für mich bleibt er die Nr.#1!
Ah und hier einige Links zu 'ner guten "Doku", die man mit Cristiano gemacht hat. Zeigt, dass er einfach super ist! So!!
(hab es leider nicht auf Deutsch gefunden..)
Cristiano Ronaldo - Tested To The Limit
Part 2
|| Mental Ability
Part 3
|| Technique
Part 4
|| Skill
xoxo.
E força, Portugal!!